Kevin Corbin was born and raised in Western North Carolina in the mountains of Macon County. Rep. Corbin was sworn into his first term in the House of Representatives in January 2017 and as a freshman member of the House, Kevin was appointed to several leadership roles. Kevin was overwhelmingly elected to a second term in the House and continued his leadership by serving as a member of committees for Education, Environment, Finance, Transportation and Chairman of the Insurance, and State and Local
Government committees.
Keeping the promises he originally campaigned on, Rep. Corbin has been a champion for WNC on the state level and has been instrumental in introducing legislation to benefit the western portion of the state in the areas of broadband expansion, education, school safety, and more.
A dedicated public servant, Kevin has been committed to numerous civic and community organizations both in his home county and on the state level. Rep. Corbin is a graduate of Franklin High School, class of 1979, an Honors Graduate of Appalachian State University (ASU) in 1983, where he majored in Marketing and Business Management, served as News Editor of the university's "Appalachian" newspaper and interned for the university as a Public Information Officer. Rep. Corbin also represented ASU in the North Carolina Student Legislature. He graduated from Appalachian with a Bachelor of Science degree in Business Administration.
Kevin has served four years on the Appalachian State University Board of Trustees, is a past Chairman of the Macon County School Board (20 years) winning five countywide elections. For the six years prior to being elected to the House of Representatives District 120, Kevin served on the Macon County Board of Commissioners, being elected as chairman of the board for the last four years of his tenure. Kevin has also served as Chair of the Region A Council of Government, which is comprised of all of the County Commissioners, Mayors, and Town Board members from the seven Western Counties of NC. Rep. Corbin was elected to this position by his peers in that group. Kevin has also served on the Board of Directors for Southwestern Community College Foundation and has served on the Franklin Chamber of Commerce Board. In 2010, Kevin was appointed to the Blue Cross Blue Shield NC Agents Advisory Board where he was involved in developing lower cost plans for citizens of North Carolina. Kevin was Inducted into Blue Cross Blue Shield of NC Hall of Fame in 2013, with only 21 inductees in history. Rep. Corbin is also an active member of the Franklin Rotary Club.
Kevin is married to Beth and they have two children, Matt and Maggie. They are members of Holly Springs Baptist Church where Kevin serves as a deacon. Kevin is the owner of two successful insurance agencies. The Corbin Agency is located in Franklin, NC and serves Western NC and the Blue Ridge Insurance Group is in Seneca, SC and serves Upstate SC. Mr. Corbin is also a founding member of the successful gospel group Blue Ridge.
LET'S BE CLEAR WHERE I STAND ON THE ISSUES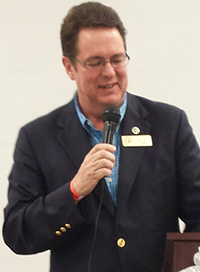 ECONOMY – COVID-19 has robbed North Carolina business owners of being able to successful operate over the last year. Kevin has always supported free enterprise economics with little government regulation and taxation, and while measures to slow the spread were necessary, it is time to get the people of North Carolina back to work.
EDUCATION – NC promised 40% of the lottery proceeds to come back to the Counties for education. This year (15-16) it was 17%. Those lottery proceeds need to be restored and I will introduce legislation to do so.
Common core needs to be replaced. It was a good sounding idea that 46 governors endorsed several years ago. It is a cookie-cutter Federal plan that assumes one size fits all. NC can do better, and we will.
Teachers in NC deserve to have their pay adjusted to competitive levels. We currently are not competitive with most neighboring states in overall teacher compensation. That needs to be corrected. We don't need to blame the Democrats or Republicans, or continue to play that game. It just needs to be fixed, and NC can do that with the increased revenues that the State is experiencing through business and sales tax growth.
Kevin believes all children should have access to a quality education and teacher pay should continue to be increased to a competitive level.  Kevin believes NC can put more money into the classroom and that teachers should not have to spend their personal funds for classroom material.
TAXES – As a County Commissioner I have a proven 6 year record of keeping taxes and fees low in our County. We have the 4th lowest tax rate in NC even after we revalued our property county-wide and LOWERED property values by an average of 14% (public record).
I believe NC needs to lower the Corporate and Individual income tax, which will put more money in the pockets of the citizens and further strengthen our state economy. WE HAVE DONE THIS IN MACON COUNTY AND IT WORKS.
JOBS – This is a huge issue as we go forward. This is the time we need to capitalize on success. Right now NC is the 9th largest state in the USA and is the FASTEST GROWING ECONOMY since 2013 in the country. We need to make it easier to do business in NC and continue this positive trend. In Macon County we have REDUCED local regulations to make it easier for folks to build their homes here. As we speak, we are developing a plan to reduce fees for building & well permits, etc. We can do the same in the State of NC. As we identify and reduce over-reaching regulation, we increase folks' desire to do business here. Also, I applaud the current legislature for reducing corporate, personal and business income tax. That is a positive trend that we need to continue. The future is bright for NC and we need to work to make sure that is true for all of FAR WESTERN NC as well.
REGULATIONS – Again, as a County Commissioner, I have a proven 6 year record of reducing regulation and making it easier for folks to operate and do business. We completely reviewed and revamped ALL of our local ordinances and regulations. We reduced regulation in our Subdivision Ordinance, making it easier for builders and homeowners to do business in Macon County. We also REDUCED REGULATION in areas such as the High Impact ordinance and more.
In my past 6 years as Commissioner and 4 years as Chairman, we only passed ONE new regulation. We passed a County-wide no smoking ordinance for all County property and that was the right thing to do.
INDIVIDUAL LIBERTY – Kevin believes that individuals possess God-given inherent rights, and it is the job of the government to protect them and support equality under the law.
SANCTITY OF LIFE – Kevin believes that the government must respect and protect all human life from conception to natural death.
STATE GOVERNMENT – Kevin believes that government must not spend money it does not have or levy unfunded mandates.
ELECTIONS – Citizens should have access to campaign finance records and that voting is a fundamental right.
Latest on Facebook
This message is only visible to admins:
Unable to display Facebook posts
Error:
(#10) This endpoint requires the 'manage_pages' or 'pages_read_engagement' permission or the 'Page Public Content Access' feature. Refer to https://developers.facebook.com/docs/apps/review/login-permissions#manage-pages and https://developers.facebook.com/docs/apps/review/feature#reference-PAGES_ACCESS for details.
Type:
OAuthException
Code:
10
Click here to Troubleshoot
.